Senasys, a leading sensor and switch manufacturer, provides a variety of adjustable temperature switches for monitoring and controlling different heating elements. There are many styles and temperature variations available for multiple applications. Our adjustable temperature switches are made in the USA, 100% tested before leaving the factory and sold all over the globe.
Types of Adjustable Temperature Switches
Capillary Switches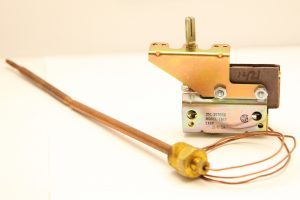 Our Capillary Switches are perfect when you need to reach a high temperature.  Capillary switches can have an adjustable temperature range from 0-700°F. Available as an internal adjustment or operator knob adjustment for mounting into a control panel.
There are multiple product options available to meet the needs of original equipment manufacturers, such as bulb and capillary sizes, and material options. Senasys ambient compensates our capillary switches, which most other manufacturers do not, making our stand apart from the rest!
These switches are commonly used in commercial food equipment, HVAC systems, pool and spa equipment. For more information, visit our product page.
TC Adjustable Limit Switch
Our TC Adjustable Duct Limit Switch, also known as a Firestat, is used to shut down heating, air conditioning and ventilation equipment when the air temperature rise exceeds the pre-set limit. The switches can be adjusted to detect a temperature from 100-250°F. These adjustable temperature switches an an internal dial that easily moves by turning the set screw to set at the desired temperature.
Commonly installed into air ducts, the circuit opens on temperature rise, when the specified temperature is reached.  Once this temperature has been reached the limit switch requires human intervention to reset the lever. For more information visit the product page.
Digital Temperature Switches
Our newly released Digital Switch (D Series) is a cost effective, flexible switching solution that allows for tight differentials and tolerances. The digital switch is available as an internal screw adjustment temperature switch or a simple operator knob adjustment for panel mounting. The adjustable temperature switch has a temperature range of -50°F to 250°F.
For more information, visit our product page. 
Any questions please contact us at info@senasys.com or 715-831-6353.